Tahajjud was once Compulsory
From the book "Excellence & Secrets of the Night Vigil" by Imam Alwee bin Ahmad bin Hassan Alhadad (An English Translation). We thank Abdulkader Ali Esa Alhadad for his permission to publish this on Muzlimbuzz.sg.
[divider]
"They (the pious) used to sleep but little at night."
Many other verses of the Quran emphasizing the importance of the Night Vigil (tahajjud) include Surah 51 ad-Dhariyat Verses 15-23. Allah SWT reminds us of the rewards for those who are righteous:









[box_light]
Surah 51, ad-Dhariyat Verses 15-23:
(15) As to the righteous, they will be in the midst of gardens & springs
(16) Taking joy in the things which their Lord gives them, because, before then, they perform good deeds.
(17) They were in the habit of sleeping but little at night
(18) And in the hours of early dawn, they (were found) praying for forgiveness;
(19) And in their wealth and possessions (was remembered) the right of the (needy), him who asked, and him who (for some reason) was prevented (from asking).
(20) On the earth are signs for those of assured Faith,
(21) As also in your own selves: will you not then see?
(22) And in heaven is your sustenance, as (also) that which you are promised.
(23) Then, by the Lord of heaven and earth, this is the very truth, as much as the fact that you can speak intelligently to each other.
[/box_light]
And in Surah as-Sajdah, verse 16, Allah describes the believers who deserve a place in the heaven saying:

"They (the believers) forsake their beds, to invoke their Lord in fear and hope; and they spend out of what We have bestowed on them."
The word 'forsake' indicates that this act of performing the Night Vigil is an extremely difficult task. Only a few will receive the guidance from the Lord of the Universe to perform it.
A difficult task requires planning which includes a carefully-executed routine to prepare one's self to achieve the final objective.
Allah had commanded the Prophet (S) to perform the prayers in Surah 73 al-Muzzammil:




(1) O you wrapped up in garments!
(2) Keep vigil at night, but not all night
(3) Half of it or less
(4) or a little more; and recite the Quran in slow, measured rhythmic tones.
In a very long hadith related by Sa'id ibn Hisham ibn Amir RA, who asked Ibn Abbas RA about the odd [witr] prayers, Ibn Abbas RA directed him to go and ask Aisha RA. Sa'id RA then sought the help of Hikam ibn Aflah RA to bring him to meet Aisha RA to ask about the odd [witr] of Rasulullah SAW.
When they met, Sa'id RA said: "Mother of the Faithful, inform me about the observance (of the night prayer) of the Messenger of Allah SAW. She asked: "Did you not recite the "O thou wrapped up? (Surah al-Muzzammil)" I replied: "Yes." She said: "Allah, the Exalted and Glorious, made the observance of the night prayer at the beginning of this surah obligatory. So the Prophet SAW and his Companions around him observed this for one year."
Allah SWT held back the concluding portion of this Surah for twelve months in Heaven. Then Allah SWT revealed the concluding verses of this Surah, which lightened (its burden), and the night prayer became a superegatory [nawafil] prayer after being an obligatory [fardu] one."
(This hadith is recorded in Sahih Muslim)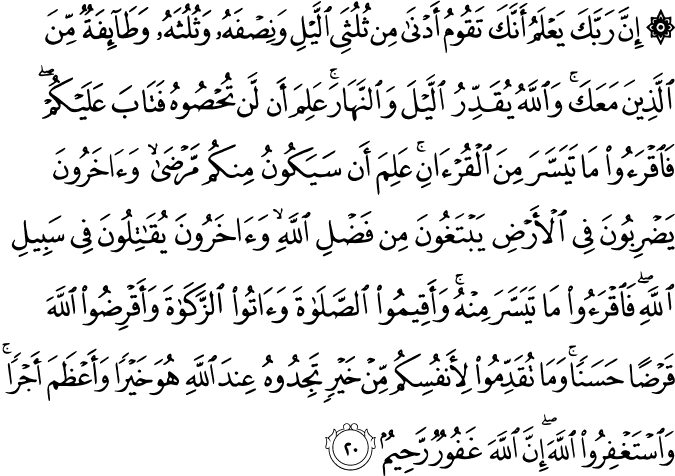 (20) Your Lord knows how you keep vigil (and pray) sometimes nearly two-thirds of the night, or sometimes half or a third of the night, and so do a party of those with you. But Allah do appoint Night and Day in due measure. He knows that you are unable to keep count and turns to you in mercy.
Recite, then the Quran that which is easy for you. He knows that there are sick folk among you, while others travel in the land in search of Allah's bounty, and others fight for the cause of Allah. So recite of it that which is easy for you, and establish regular prayer and give regular charity and loan to Allah a beautiful loan (that of your soul). Whatever good you send forth for your souls, you shall surely find it with Allah, better and greater in reward. And seek forgiveness of Allah, for Allah is Oft-Forgiving and Most Merciful.